Working in fibre splicing at FTS Resolve
Having worked in the telecommunications industry for well over a decade, our trusted team member Nathan Boburka recently made the move from hauling into splicing at FTS Resolve. He's heading up our operations in Brisbane as the Fibre Splicing Team Leader – and couldn't be happier about the opportunities FTS has opened for him.
---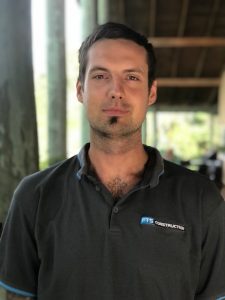 What does your role as Fibre Splicing Team Leader involve?
I love that I've been able to move into splicing, as it requires you to use your brain a bit more. It's definitely not as labour intensive as what I did previously (hauling).
I approached our Head of Operations, Steve, to ask about making the switch from hauling into splicing about a year ago, and he's helped me make the career transition.
As the team leader, I get jobs come through from Head Office and am responsible for organising the work and ensuring it gets done well. I work with a range of clients, and really enjoy the variety my work brings me.
What does your average workday look like?
I usually get up at about 4.30am and spend some time on admin tasks like responding to emails, arranging access to buildings and planning out my team's workflow. Then I'll head out to the work site and get started on work with my splicing team. There are often challenges to overcome and problems to solve on the fly – but that's a great part of the job.
I'll often work with clients and partners fairly closely. For example, at the moment my team is working on installing a new TPG network, so I liaise with TPG regularly. We're also kicking off some work with Visionstream, so this morning we attended an induction with them.
What do you like about your role at FTS Resolve?
I like that it's challenging. Every day brings new challenges, and you have to use your head to work around them. Sometimes the problems are relatively easy to solve, while other times they might leave you scratching your head. But we always find a way to overcome them. It's about communicating with the team and with clients to achieve the best outcome.
I'm also thrilled to be heading up the team in Brisbane right now. My parents live here and I love the lifestyle – so it was really exciting when the opportunity came up. While we're the first people on the ground from FTS Resolve in Brisbane, we're working hard to do great work and build the business in the northern part of the country.
How long have you been working at FTS?
It's coming up to 2 years in April 2018. I started out in hauling at FTS, and before that I was in hauling at other companies for a decade. I decided about a year ago that I wanted to take a step back from the physical side of telecommunications work and start to get into the technical side, which is why I chose to move into splicing.
What is the FTS team culture like?
It's really good! The morale is great, and everyone is friendly. We all know how to have a joke, but still prioritise getting the job done well. Our team are always willing to stay back to meet a deadline. Even being based in Brisbane, we still communicate regularly with the head office team back in Melbourne, so we feel supported. I like knowing that help is only a phone call away.
How do you think FTS differs from other employers in the industry?
It's a bit like a family. FTS Resolve genuinely look after you. I also feel like there are exciting opportunities available to me, so I can work my way up in the company and be a role model for others.
I enjoy working here and want to see the company grow. It's always exciting going into the office and seeing new faces and new workers, because it means the company is growing. It's been really positive watching the business develop recently, especially bringing on a new logo and name to freshen things up.
What advice would you give to someone else pursuing a career in splicing?
Just do it! Don't wait. I waited 12 years before I jumped across to splicing from hauling, and I wish I had done it sooner.
You don't really need to have a specific set of skills to be successful in this sort of work, you just need to be ambitious and willing to learn. And if you put in hard work, you'll be rewarded by working your way up in the company and having lots of opportunities.
Interested in working at FTS? Get in touch to enquire about available positions.