Working in facilities and maintenance management at FTS Resolve
Self-confessed tinkerer Corey Bourchier is FTS' facilities and maintenance manager. Corey oversees the maintenance and servicing of FTS Resolve's entire fleet of vehicles, which is vital to ensuring we stay operational with minimal downtime. He explains what it's like working in facilities and maintenance management at FTS; he also speaks about the time he designed a truck that has dual-tipping capabilities.
---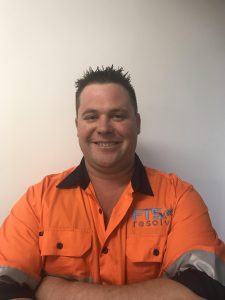 What does your role as facilities and maintenance manager involve?
I'm responsible for making sure all FTS machinery and equipment is fully functional, including trucks, utes, vans, cars, excavators, trailers, drills and various other plant and equipment items. I oversee the servicing, maintenance and management of the full FTS fleet, almost all of which occurs in-house.
What does your average workday look like?
There's no such thing as an average workday for me, which is what I love about my role. One day I might be out on a job site fixing an item of plant that can't be moved to the workshop, the next I could be in-house managing our maintenance system and planning annual machinery servicing.
I'll often get called out to respond to breakdowns, which could be servicing a ute or pulling a gearbox off a drill – breakdowns happen when they happen, whether that's 9 o'clock at night or 9 o'clock in the morning, you always have to be ready to be 'on the job'. It can seem like organised chaos at times, but we have a full maintenance system in place, which ensures our entire fleet's annual servicing and maintenance is logged and stays up to date.
What do you like about your role at FTS Resolve?
I like that the role is very hands on at times. From refitting a beavertail truck to carry around an excavator, to helping with civil capabilities, such as adding a tool box and racks to utes and vans – I help design and make all sorts of equipment.
I recently designed a truck that has dual tipping capabilities with two compartments to store soil, crushed rock or concrete. One compartment tips to the rear of the truck and the other to the side of the truck. This allows our team to unload soil or crushed rock off the side of the truck without having to un-hook a trailer. It also gives us the ability to carry two types of materials without mixing them together.
I love that there's always a challenge, with lots of variety from one day to the next – though this means you always have to be flexible and on the ball.
How long have you been working at FTS?
I've been at FTS Resolve for two and a half years – though I designed and built trailers and fabricated trays for FTS prior to that as part of my own business, so I've been involved with the team for around six years.
What is the FTS team culture like?
It's really good. It's part of the reason why I decided to quit my own business and join the team permanently – the grass really is greener on the other side! We have such a close-knit team and all get along really well. We'll often have a BBQ on a Friday afternoon, where the whole FTS team will get together and have a chat, regardless of your role within the business. I haven't had that at any other business before and I think that speaks volumes for the team culture.
How do you think FTS differs from other employers in the industry?
FTS offers room to grow within the business, so you might come into the business as a mechanic but end up managing the servicing for the entire fleet. FTS Resolve looks after you, offering plenty of great opportunities to upskill and develop within the business. I enjoy working here because everyone's easy to communicate with. From the leadership team to our field technicians, everyone makes you feel included, you're never made to feel like just another cog in the wheel.
What advice would you give to someone else pursuing a career in maintenance management, manufacture and fabrication?
If you love being around trucks and equipment and are passionate about problem solving when it comes to the gear, then this is the right job for you. Having an apprenticeship under your belt can help, as it gives you the unique set of skills you need to work as a mechanic and in metal fabrication.
Working in maintenance management and servicing is really challenging, but it's a rewarding, hands on career. If that's what you love then give it a go.
Interested in working at FTS Resolve? Get in touch today to see what positions are currently available.