Working in drilling at FTS Resolve
Drill Team Leader Chris Johnston has been working in drilling for almost twenty years, and has worked at FTS since 2014. He's currently helping deliver our innovative drill training program, allowing FTS Resolve to lead the way in employee training and development.
---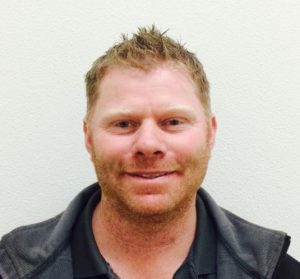 What does your role as Drill Crew Team Leader involve?
While managing a team of drillers, I also perform tasks like scoping out work, and ensuring our equipment (drills, trucks etc.) is kept in good condition. I'll also research and recommend new equipment when we're ready to buy. I work closely with our project managers and often move between jobs and worksites to ensure we deliver a great outcome for our clients.
In my role I help out the FTS team wherever I'm needed, as well as ensuring our equipment and processes are up to date by industry standards.
What does your average workday look like?
I don't really have an 'average' day, because things are always changing! My days at FTS Resolve are usually very early starts, and we'll work onsite as long as it takes until the job is done. I head out to worksites for most of the day, visiting various drilling jobs. The work itself varies depending on client needs – from drilling road underpasses to sports grounds.
At the moment, I'm really enjoying being involved in running our drill training programs, and a lot of my day is taken up with doing this. There are no industry qualifications or tickets needed to work in drilling, so we're developing our own set of standards and forming a training program around this.
What do you like about your role at FTS Resolve?
My role is really diverse. In this industry you need to be flexible, and I often end up working wherever the company needs me most, but I like that I have the freedom to do that. The main thing I enjoy about my role is making sure that FTS Resolve has an exceptional reputation for delivering quality work onsite.
How long have you been working at FTS?
I started at FTS Resolve in 2014 when we first introduced our drilling component. It has been a pleasure to be a part of building the business to where it is today.
What is the FTS team culture like?
Culture is a big part of FTS, and it plays a large role in how we hire people and take care of them. We have a real focus on professional development and training, which allows people to upskill and access better opportunities within the business.
At the moment, our team is developing a program to create highly trained drill technicians in our drilling division, as there's no other industry standard to follow.
We also like to keep an eye out for people that show promise and have a passion for what they do. The FTS Resolve team leaders help ambitious workers develop themselves to be more successful at their jobs.
How do you think FTS differs from other employers in the industry?
In the last couple of years FTS has become very specialised. We have so many staff in so many different areas of the business now, and it's structured so that each person is focusing on what they're best at. I think this level of expertise makes us stand out in the industry. We're specialists, and we're fortunate to have such a widespread skillset, ensuring we deliver our best at all times.
There's also a huge focus on hiring the right people. We don't necessarily recruit the most skilled people – we choose people that have the right personality, and then train them to have the skills they need to have. It's a big reason that we've grown so quickly and have such an excellent team – we have the backing of our staff.
What advice would you give to someone else pursuing a career in drilling?
If you're interested in drilling, go at it as hard as you can. You probably won't get all your experience out on site, so sometimes you have to actively go searching for information outside of work. I recommend attending industry events and expos, and seeking support and resources from suppliers. (I like to attend the No Dig event).
Drilling becomes a passion, not just a job. That's why I'm where I am today. Someone shared their passion for the industry with me at the start of my career, and it's really important for me to pass that on to my team.
If you're interested in obtaining a role in drilling, FTS Resolve is always looking for passionate, hardworking individuals to join our team. Get in touch to apply for a position.