Working in Project Management at FTS Resolve
From Cable Hauler, to Team Leader, to Project Manager – Jack Philpott has come a long way since he left his role as a baggage handler to join FTS in 2014. Learn about his journey, and how he's built a successful career within a supportive team environment.
---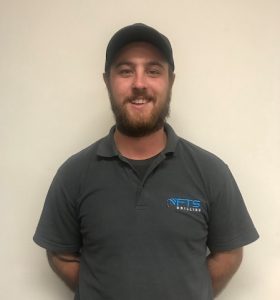 What does your role as Project Manager involve?
As a Project Manager, I do a lot of work directly with my clients, sorting through issues and working out what they need. I also communicate with other Project Managers, field technicians and FTS team members to ensure work runs smoothly.
There's a lot of responsibility, but I'm always up for a good challenge!
What does your average workday look like?
No two days are the same! I'm often in the office, either on the phone or replying to emails, helping my team solve problems. I'll also sometimes go out to sites to meet with clients and work directly with the team.
What do you like about your role at FTS Resolve?
I enjoy my role – as a Project Manager – because it gives me the freedom to tackle a diverse range of challenges and solve problems. I like the variety of the role and that I get to work with lots of different people. Every day's different that's for sure.
How long have you been working at FTS?
I've been at FTS Resolve for about four and a half years. I started out as a field technician (cable hauler), and managed to work my way up to be the Cable Operations Coordinator. Now I'm a Project Manager. It has been great to rise through the ranks and build my career with such a supportive team.
What is the FTS team culture like?
We're lucky, we have a good team; everyone's always willing to help each other out. We sometimes help other crews out, lending a hand when they need it. We all want each other to do well in the job.
How do you think FTS differs from other employers in the industry?
While I haven't worked with any other companies in the industry (I was a baggage handler at Virgin Airlines prior to this), I think what sets us apart is our strong work ethic.
It's the way our people go about things, doing everything in their power to get the job done – making sure everything's right. From the executive team to the apprentices, the focus here is on exceeding client expectations. And having a laugh or two while we're at it.
What advice would you give to someone else pursuing a career in project management?
I'd say, 'just be yourself'! As long as the company you work for is as progressive and supportive as FTS Resolve, people will be willing to help you out when you need a hand, and will encourage you to grow within the business.
You've got to put the hard yards in, though. A career in project management isn't easy, but by putting in your best efforts every time and performing consistently, you'll get reward for effort.
Project management is hard work, but it's worth it in the end. There are always challenges to face, but if you're willing to do what it takes to find solutions, you'll do great.
You need to be good at communicating with lots of different people ­– from Project Managers, to clients, to field technicians. You'll be talking a lot.
Keep in mind that working with a variety of stakeholders can be challenging – particularly people who can give you access to a building. Sometimes things don't go as smoothly as they should, but don't let it get to you. Stay polite, smile, and keep your cool. It's not worth getting upset.
Interested in working at FTS? Get in touch to enquire about available positions.